Faran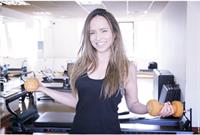 Faran is coming from a background in modern dance - having studied at Broadway Dance Centre in New York City - Faran has been inspired to stay fit by the best movers and shakers in the business.
Faran is trained through STOTT Pilates for her mat work certification, and fully qualified on the reformer through TENeducation. Through both training backgrounds, she delivers private lessons and classes that cater to your needs- whether it be rehabilitative, traditional or dynamic styles of Pilates.
Faran instructs the following:
This level of class requires a good level of strength, fitness and understanding of the basics that are taught in the beginners classes. Using the tools that the machine provides, we can accommodate a very wide range of abilities in these classes and continually challenge you as you improve. These classes are designed to be challenging and to overload your body causing it to adapt and transform.




Our Beginners classes place a heavy focus and importance on the basics of breathing, posture and the essential movements as well as introducing you to the reformer machine. These classes are designed to help you feel comfortable with the reformer and the studio environment. It is very wise to take the time to learn these basics well, giving you a foundation of knowledge, before moving up. Even if you have done pilates before we highly recommend you attend a Beginners class for your first experience of Absolute.